Requiem over an open grave
There used to be a crypt here, a common grave of the Serbs from western Herzegovina. The crypt along with the foundations of the church have been completely destroyed. It is today an open grave and a hard indictment of those who have committed the crime and of those who should execute the criminals.
The commemorative service dedicated to the suffering of the inhabitants of Prebilovci (August 1941 – August 2007) happened to be held at the beginning of the excavation of the church in whose crypt are stored the remains of the victims, previously dug out of the pit of Golubinka near Šurmanci . Besides the local residents of Prebilovci, the remains of other Serbs from south Herzegovina, who died during the WWII in the pits in the region of Stolac, Čapljina and Neum municipalities, were also buried here. The church was completely destroyed by the Croatian armed forces and HVO during the 1992 war.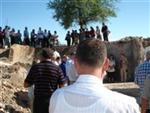 Those who attended the requiem gathered in front of the church leveled to the ground and in the excavated crypt. The martyrs' bones were blown up to pieces by powerful detonations; a smaller part of them was found and some small pieces of them are visible in the ground and concrete dug out during the excavation.

The first phase of the work carried out under the supervision of the archeologist Aleksandar Ratković from the Bureau of Protection of Serbian Cultural Monuments has been finished. Here, at the spot, it is obvious what a crime has been committed, for the second time, over the innocent people. This time over the relics of those who were killed in 1941. The photos taken at the requiem are proof in themselves. The gathered data are being processed and will be delivered to the competent office.
Is Prebilovci so far from the judicial organs of Bosnia and Herzegovina, the Hague and the UN Peace Forces in BH? It can't be possible that they are not informed about the crime committed in Prebilovci!? In the photo there are the witnesses - part of the destructive power bomb (to the left) and two soldiers from the Peace Forces (to the right). The photo was taken on August 3, 2007.
This year's requiem attended by a great number of the victims' relatives who arrived from all parts of the former Yugoslavia was actually held over the open grave. The previous works have confirmed that the church and the crypt were blown up by outstandingly destructive power bombs to commit a crime inconceivable in the history of wars. The church ritual was performed by the local priest Boris Čolović together with the priests from the neighboring parishes .

____
Published in August, 2007