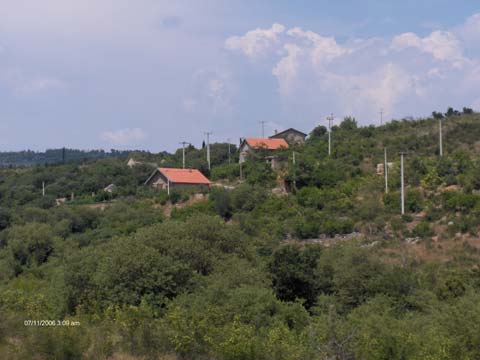 Three Roofs in Kuline
Once, not so long ago, Kuline was a small village, a hamlet of the big village of Prebilovci. This is where, with their many family members, lived Maksim Balut (Karimakov), Rajko Bulut (Simin, Milan Bulut (Petkov), Danilo Šušić , Rade Šušić, Jovo Bulut, Zdravko Bulut, Srećko Dragićević, Mitar and Slobodan Dragićević, Ilija and Miladin Ekmečić. The brothers Pero and Ljubo Šušić from Sarajevo, Manojlo Suhić and Maksim Bulut-Crni from Belgrade, Lazar Bulut from Mostar and Čedo Bulut from Stoc once had their summer cottages in Kuline.
Mila Bulut, a widow of Petko, Rajko and the late Milan-Kariman's son Maksim have returned to Kuline. Their houses can be seen on the photo. The returnees are also Rade Šušić, as well as the brothers Ilija and Miladin Ekmečić.